Expand the possibilities of your Brisbane-based business with a little help from Devpro; we understand that you've worked hard to build your business to the point it is at, but now is the time to work smarter not harder, and let us assist you.
Your goal is to grow and expand your business, the goal of Devpro is to be instrumental in that growth through applications and integrations.
Working with our clients, the team at Devpro gets to know your Brisbane-based business and can find a tailored approach to helping you develop.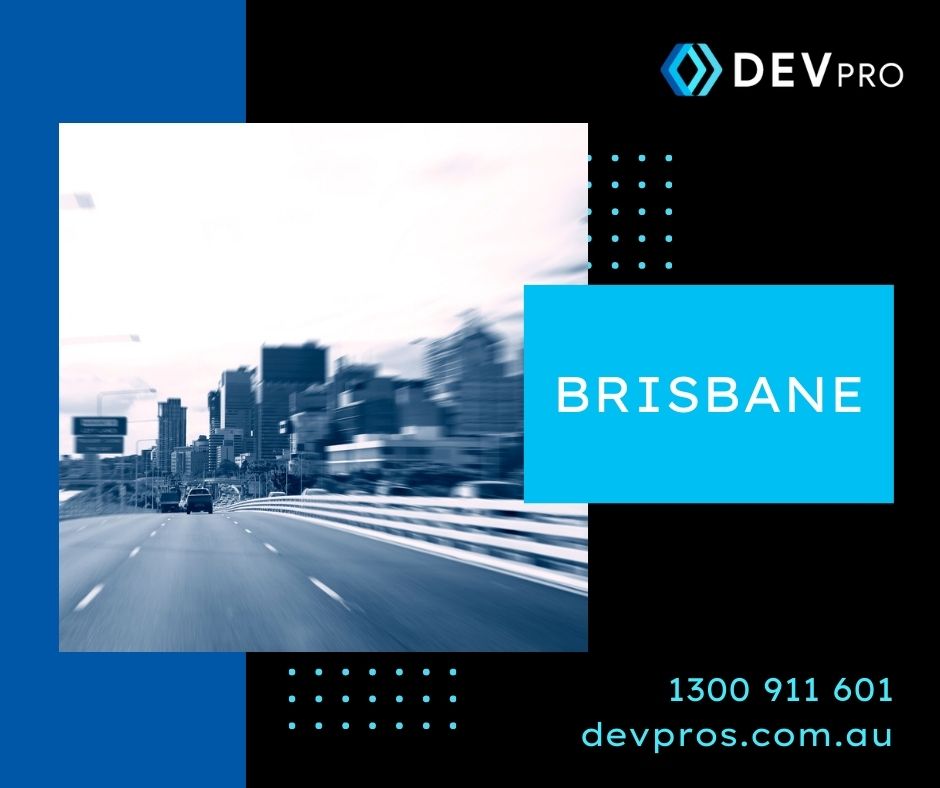 Custom Software Development for your Brisbane-based Business
Business software is invaluable, but when you buy off-the-shelf it can often mean you moulding your business practices around the software instead of it working perfectly for you.
When you get a customised software development solution tailored specifically for your Brisbane-based business, it fits like a glove; we take the time to get to know your business so we can craft the perfect software for you.
Let your software work perfectly for you, talk to Devpro.
Custom Application Development for your Brisbane-based Business
Automating business processes, customer relationship management, and analysing data are some of the many uses of a custom application. Devpro work with you and your Brisbane-based company to tailor an app for your needs.
Designing and developing your custom application can assist with streamlining processes and managing data.
Want more information? Talk to the team at Devpro.
Software Consultants for your Brisbane-based Business
Let Devpro's software consultants look at your current software and develop the most efficient software solution for your Brisbane-based business.
Web Applications for your Brisbane-based Business
Adding a web application to your Brisbane-based business opens up endless opportunities to you, this includes, static web applications, E-Commerce web applications, Portal web applications, and much more. Offering a service over the internet using a web application opens your business up to a much wider market, and blows the potential wide open!
Mobile Applications for your Brisbane-based Business
Mobile applications have the potential for a global audience.
A mobile application can enable you to share your product and/or service with an audience that is much greater than one that can be generated by local foot-traffic.
With a mobile application, consider your business open 24/7 to everyone with a mobile, and that's nearly everyone!
Systems Integrations for your Brisbane-based Business
As a business grows organically it can outgrow some of the systems that helped it reach its current success.
As businesses start out they purchase the necessary software, and whilst there might be a software package for accounting, one for sales, and another for documentation, as the business grows and evolves using multiple platforms can become timely and costly.
Systems integration pulls all your systems together into one streamlined and tailored solution, saving our clients time, money, and headaches.
SharePoint for your Brisbane-based Business
SharePoint is an effective way to bring an organisation together; giving all users access regardless of their locality means easier sharing of information and the ability to work remotely.
Work together, even when you are physically apart.
Documentation Management Specialists for your Brisbane-based Business
Organise and secure all documentation with documentation management. Devpro can assist you with E-signing, easy access to vast volumes of data, and integrating all your data in a manageable format.
Do You Want Help Getting your Business to Grow?
If you want to take your Brisbane-based business to the next level, talk to the team at Devpro.
The team at Devpro take the time to get to know your business and custom develop the best solution for your needs and goals.
Call 1300 911 601 and speak to the team at Devpro.